Many of our interviewees mention Royal visitors and over the last 50 years, a number of members of the Royal Family have joined us at Stirling, often to mark the opening of significant new facilities. Here we show some photographs of those occasions.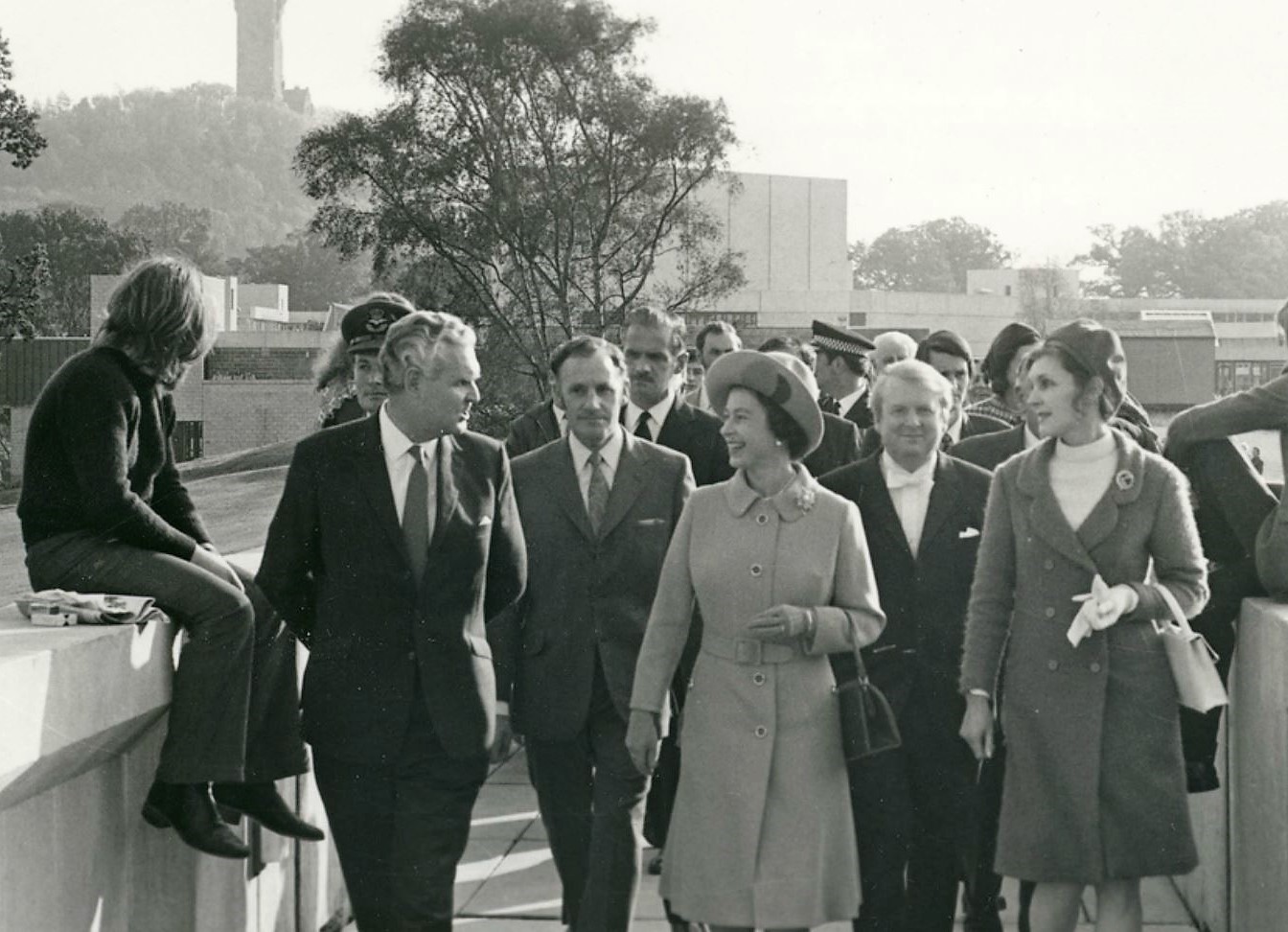 1972:
A key moment in the life of the University as the Queen apparently enjoys a tour of the campus. A search of the Oral History website offers mixed memories, opinions and interpretations of the impact of her visit.
Left to right: -- ; -- ; The Queen; The Principal Prof Tom Cottrell; Joyce Dunn.
---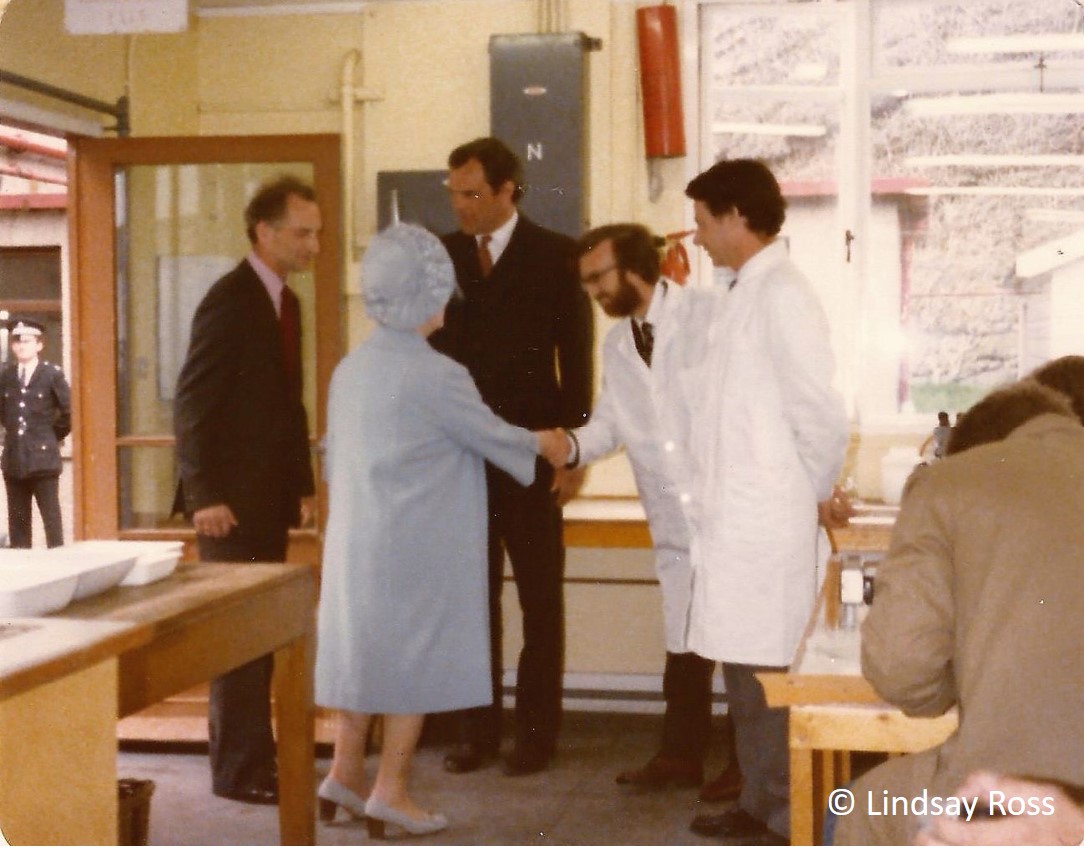 1978:
Queen Elizabeth the Queen Mother visited the Millport Marine Field Station on the Isle of Bute during the University of Stirling Biology Department marine field course. After arriving in great style in the Royal Yacht Brittania, accompanied by a warship, she spent some time meeting staff and seeing the ongoing work in the laboratories. A group of students then joined her majesty for tea in the common room.
Left to right: Prof John Allen, Director of Millport Laboratory; Queen Mum; Prof Bill Muntz; Dr Donald McLusky; Dr Tony Berry.
---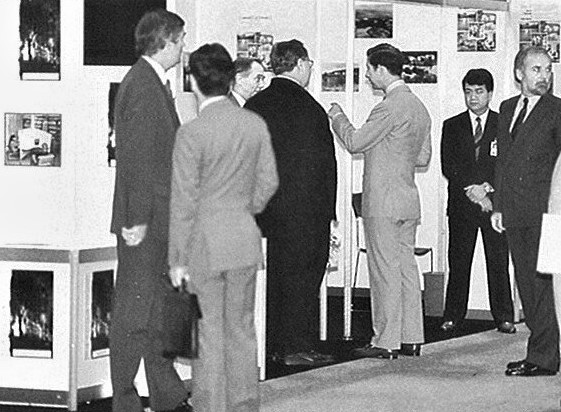 1989:
Prince Charles discusses the popular Master of Business Administration course with Stirling staff in Hong Kong.
Group in centre of photo: Dr Bill Inglis; Ian Bird; Prince Charles.
---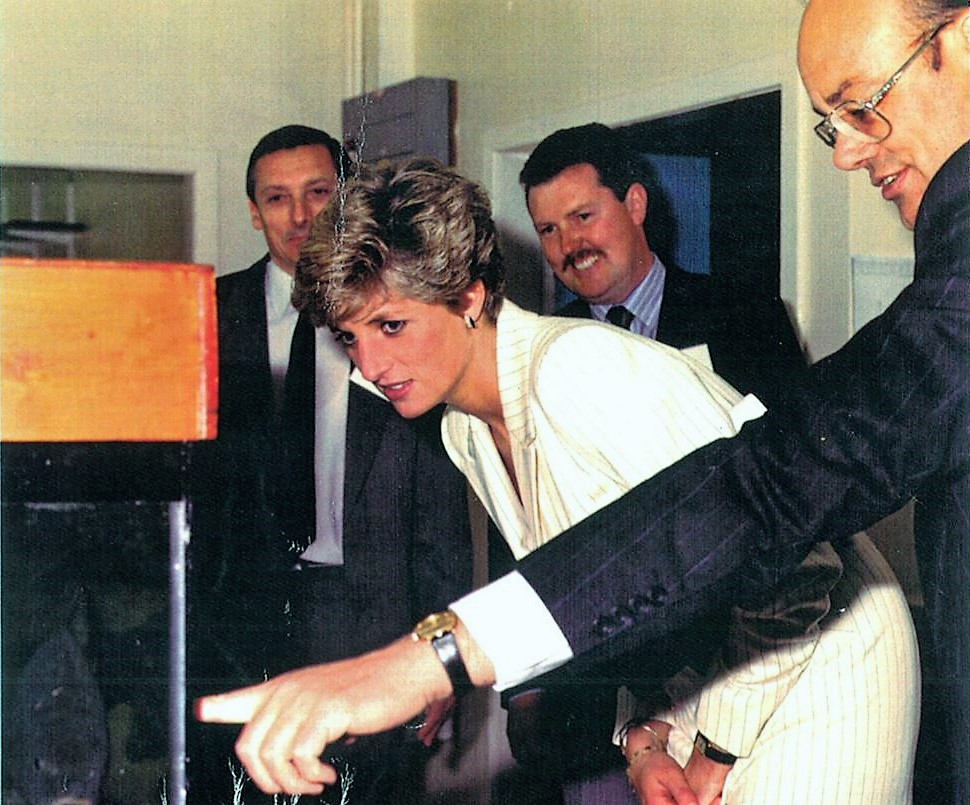 1991:
Diana, Princess of Wales opened the Gannochy National Tennis Centre of The University. She then went on to open the Wolfson Laboratory of Aquatic Biotechnology, which was a major laboratory extension to the Institute of Aquaculture in May 1991, equipped with the most up to date technology for genetic research. She was introduced to members and friends of the Institute of aquaculture.
In the photograph are, left to right: Prof Niall Bromage; Princess Diana; Prof Brendan McAndrew; Prof Ronald Roberts, Director of Institute of Aquaculture
---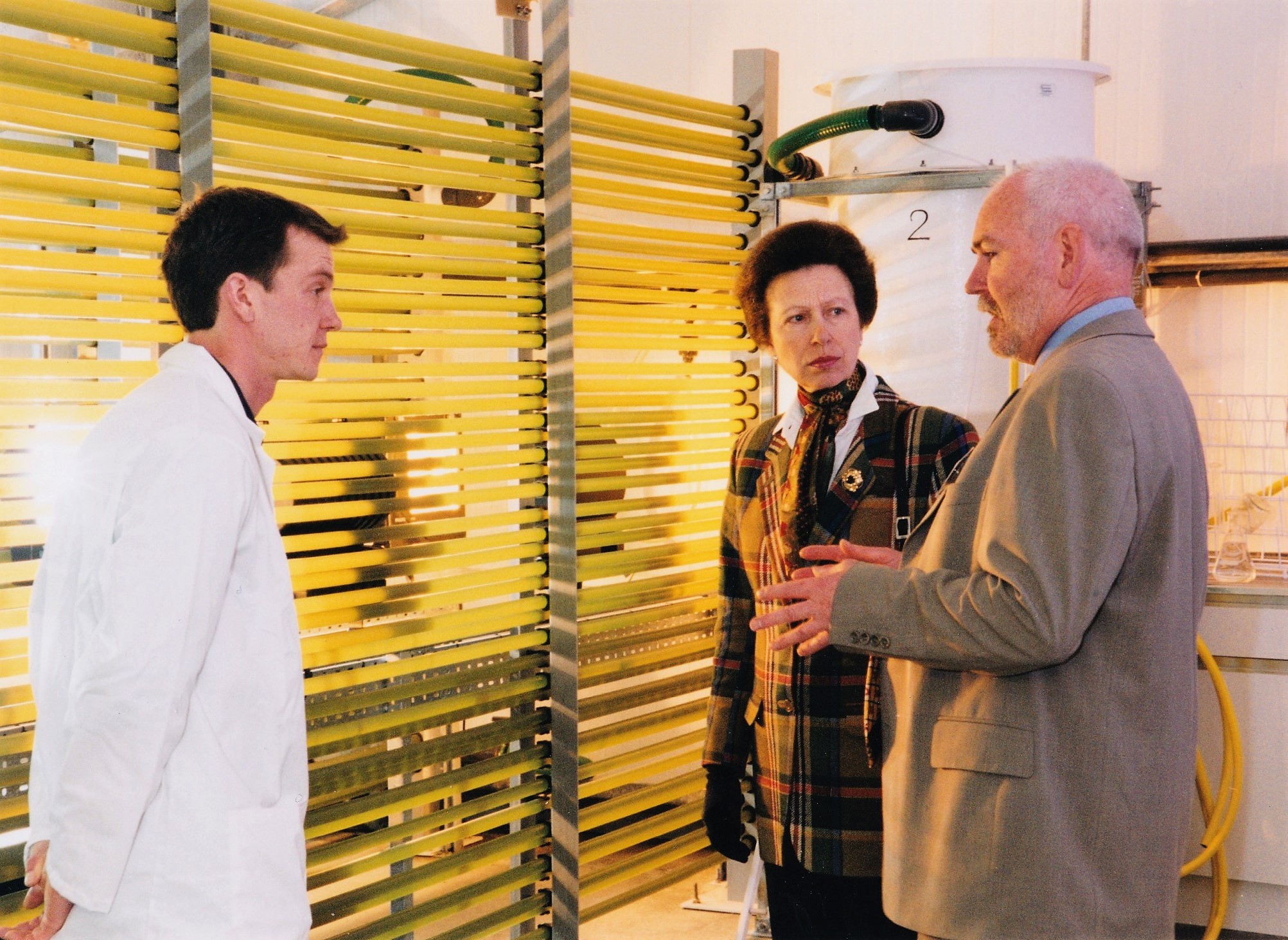 2002:
The Princess Royal, Princess Anne, opens the Marine Environmental Laboratories (Institute of Aquaculture) at Machrihanish, Argyll. Princess Anne met members of staff of the Marine laboratory and talked to University research staff about their projects currently being carried out in the facility.
Left to right: Owen Hutchins; The Princess Royal, Princess Anne; Dr Derek Robertson, Director of External Facilites (Institute of Aquaculture).
---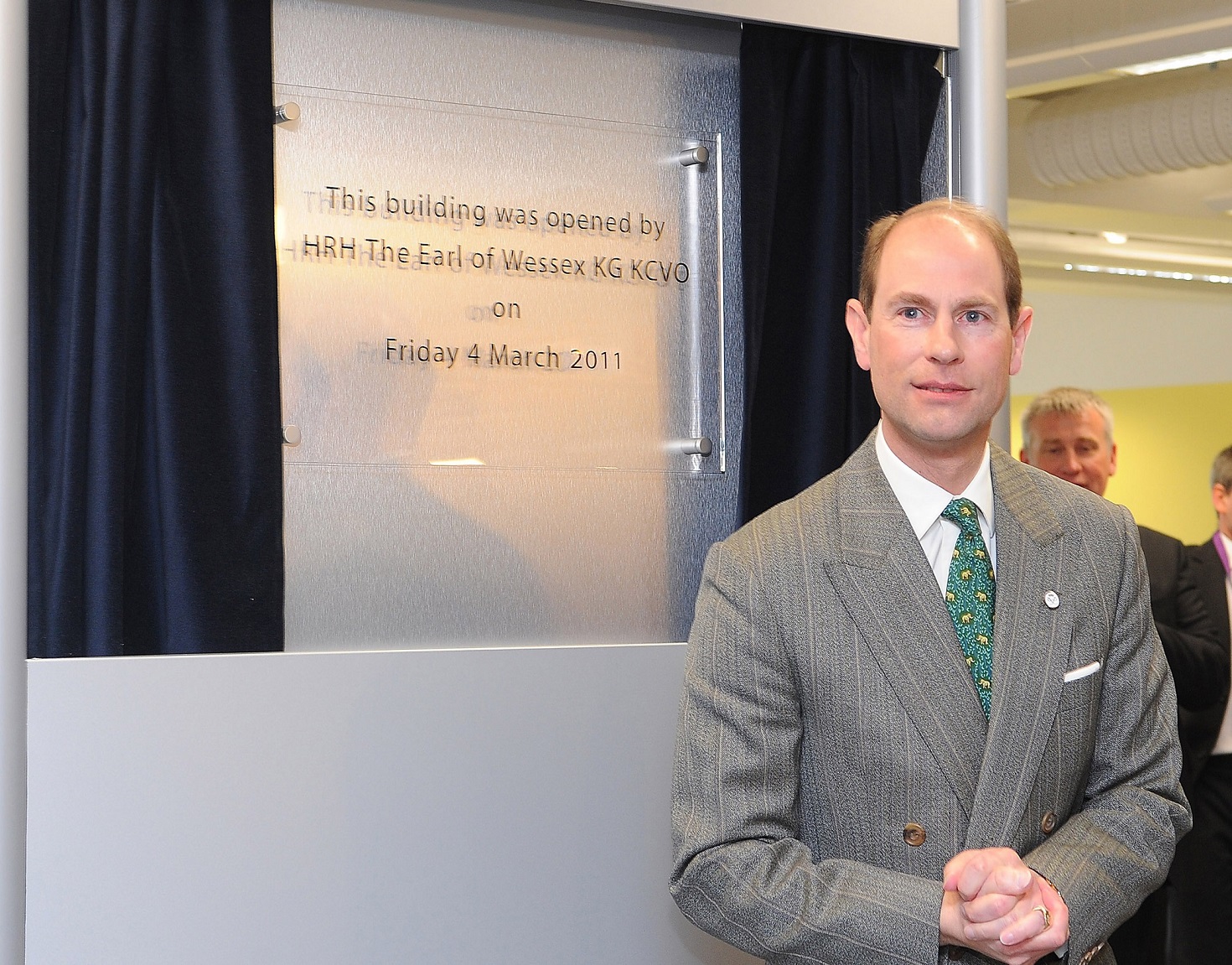 2011:
Prince Edward, The Earl of Wessex, formally opens the 'new' Library, March 2011.
The first University Library was in Pathfoot but as the Cottrell Building came on stream in 1971 the main Library opened adjacent to the Macrobert Centre. It was refurbished in 2009/10, adding an atrium which brings in light down through the centre of the building to the ground floor, a welcoming, vibrant learning environment and a new reading room and exhibition space for the special collections and archives.
---